Project "Insects of Madeira".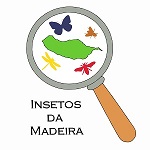 Insects perform countless essential functions in our lives! However, many of them may become extinct even before they are known. The project "Insects of Madeira" is a project for all of us and we count on your contribution!
The Project in Figures is a non-technical report with the results of the first year of the project "Insetos da Madeira" This citizen science initiative registered on the Biodiversity4all platform, aims to disseminate the richness of Madeira's entomofauna and promote the active participation of all citizens in the observation and collection of new data needed by scientists, helping to conserve the local fauna. The data provided by citizens are accessible to ALL in this report.